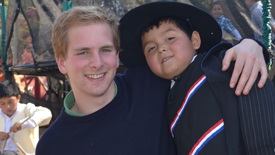 VE Global selects and recruits volunteers from all over the world to participate in its volunteer program in Santiago de Chile.

---
A 4-month minimum commitment
VE Volunteers commit to a minimum stay of 4 months and two weeks. VE Global takes its mission and vision very seriously and believes that short-term volunteer opportunities with children at social risk can do more harm than good. As a nonprofit organization working with children who have, in many cases, experienced abuse, severe neglect and abandonment, we believe that a longer-term commitment is necessary to break the cycle of abandonment.
No-Fee program
VE Global's volunteer program has the particularity to be a No-Fee program. However, your support is critical in making sure that program administrative and operational costs are covered. Every volunteer thus commits to fundraising actively throughout their stay in Santiago. Learn more about volunteer fundraising here. In return for their contributions, hard work and enduring efforts promoting VE and its ideals, VE volunteers receive:
Over 100 hours of training in 4 months
10 days of orientation and initial formation in children education
24/7 continuous support and emergency assistance
Help in finding accommodation once arriving in Santiago
Two vacation days per month worked
A mid-term Jornada, Our version of a corporate retreat
Important advice on adjusting to life in Chile and managing culture shock
A VE t-shirt and bag
The VE family is a strong international community of more than 450 volunteers from more than 35 different countries. We hope our antiguo volunteers will stay engaged with our community and thrive to remain strong advocates of social justice long after the end of their volunteer commitment, wherever life may take them afterwards.
---
Where Can I Volunteer with VE?
VE Global works with children's shelters, community centers and a school for children with special needs in Santiago, Chile.  We currently offer our full-time volunteer program only in Santiago.
Program Requirements
VE Global is committed to selecting candidates that are passionate and responsible, with a strong desire to change outcomes for children at social risk.  To protect the children we support and ensure our volunteer program is run with integrity, we have a competitive selection process.  The basic requirements to participate in our volunteer program are simple:
Have your 18th birthday before the start date of the program to which you apply
Commit to a minimum 4-month, full time volunteer commitment
Commit to fundraising for VE Global in addition to covering your own personal costs and expenses throughout the duration of the volunteer program
Participate in the 2-week Orientation Program prior to beginning work at the partner organization where you are placed
Speak Spanish at an intermediate level, or agree to complete a minimum number of hours of Spanish language classes
Submit a Criminal Background Check and Doctor Physical/Mental Health Waiver prior to arrival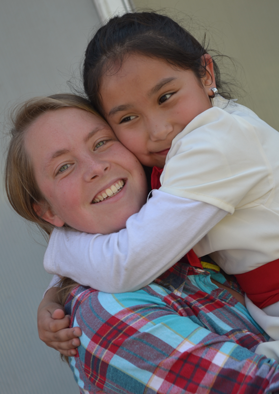 ---
Things to Consider
Although the benefits of volunteering for you, the children, and the social service organizations we work with are immeasurable, it is important to remember that it is a serious undertaking, compounded by living outside of your home country and often outside of your native language.
Here are some things to consider before making the commitment to volunteer with VE Global:
Volunteering with VE is a job.
At VE, we expect a lot from our volunteers. They are the life force of the organization, and their energy, initiative and creativity touches the children's lives every day. When a volunteer makes a commitment to VE and our social service partners, it is a serious one. The time and length of stay requirements ensure that our social service partners receive continuous support, and that our programs continue to grow and expand. Our volunteers receive two vacation days for every month served and we require two weeks notice, so we can inform their placement in one of our partner organizations within plenty of time.
A four month minimum commitment.
At first, four months may seem like a long stay, but once you arrive in Chile, you will realize that it takes that amount of time to feel comfortable at your placement organization. At the beginning, everything is new: the city, the culture, how VE works and your experiences with the children. It takes time to adapt and pick up the language. Even if you already speak Spanish, you will find differences in the Chilean version!
The most important aspect of your work with VE Global is your interactions with the children. Our volunteers develop and implement educational programs for the children, but the overall job is to simply be with them, whether teaching a math taller or talking about their day at school. You will spend many hours with them as a mentor, helping them with their homework, going to the park, or bringing them to the doctor. Staying for at least four months, or the recommended six months or longer, allows you to generate a trusting and loving bond with the children and gives you the opportunity to develop effective projects based on the children's specific needs.
Santiago is a large, metropolitan city.
The cost of living in Santiago is on par with any major city worldwide. While it is possible to live cheaply, most volunteers want to take advantage of all the city has to offer. VE Global charges no fee to volunteer, but volunteers are responsible for all of their personal expenses. These include housing, food, transportation, travel, recreation, etc. Every effort is made to provide affordable housing to volunteers, but potential volunteers should seriously consider the financial commitment volunteering requires. Most have found it helpful to make a budget and stick to it throughout their stay. Volunteers often take advantage of opportunities teaching English to supplement their stays; however, this should not conflict with their volunteer commitment.
You will want to travel!
VE volunteers love to travel. As well as its own attractions, from the Atacama Desert in the north to Torres del Paine National Park in the South, Chile's proximity to countries such as Argentina and Peru makes trips to Buenos Aires and Macchu Picchu very tempting. With so many exciting things to see and do, it is worth planning travelling time around your commitment to VE. Many people find that setting aside four to six weeks at the end of their stay in Santiago gives them ample time to trek around the continent. Of course, our long term volunteers (or Antiguos) are available with travel advice and perhaps an extra sleeping bag or two.