Meet our volunteer, Amy, 18, from London, England.
How did you decide to volunteer in Chile?
I didn't want to go straight to Uni. I wanted to do something a little bit different before I continued my studies. This seemed like a worthwhile gap year because you can experience a new culture in a more in-depth way of living and working in a new country for a year.  I wanted to work with kids because I'm interested in teaching.
You decided to come to Chile for one year. Why Chile and for such a long time?
It is a long time! I think it takes 3 months to really get into a job and get to know a city so I wanted to stay for a year to get to know different people and get the experience of living in another country.
I wanted to go to South America because I wanted to learn Spanish. I feel that Chile and Santiago are really great! Santiago has everything you want in one place. It doesn't feel so different from London but an hour outside the city you have amazing places to visit.
Do you feel at ease with Spanish?
I studied Spanish in school but it's a lot harder here than I expected, especially trying to understand what people are saying. The words they use here are so different from the ones I learned at school. However, I feel that living in a Spanish-speaking country is the best way to learn and I think I will pick it up in a few more weeks. I already understand better than when I arrived!
You've been volunteering in the hogar de San Francisco for about a month now. How has the experience been so far?
I really like it! It's a nice place and the girls are really sweet and happy. Leading the workshops with my limited Spanish can sometimes be challenging. There are 21 girls in the children's home and there are only 3 three volunteers working there. Two of us are full-time and one part-time. I think it's good because I feel you have time to get to know the girls individually.
What kind of workshops have you done?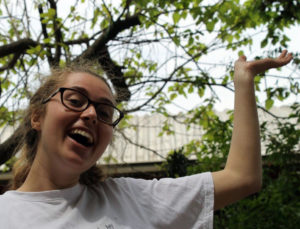 Now we are preparing for the Festival de Arte and therefore have done lots of art workshops. We made dreamcatchers and last Friday we had an origami workshop! The best moments are when the girls are very grateful and give me a hug after a workshop.
How about how has been the life In Santiago?
Really good..I've visited many families. People are welcoming, they welcome you into their home and they make me lots of food! It's really good!!
What do you think about VE Global?
I think VE is a good place to volunteer. There's a community of people who support you.. I feel I'm part of a team and not all on my own in a hogar!